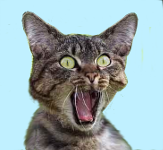 About Trump, it's time to freak out and speak out!!!
Trump and Megalomania

Summary by historian David McCullough: Donald Trump was
"the least qualified candidate for the presidency in American history".
... "unwise, plainly unprepared, unqualifed, and it seems unhinged"
-- quoted from C-SPAN interview, April 12, 2017
"I used to live in the USA. Now I live in the USC, Unhinged State of Chaos, with motto embossed in brilliant gold lettering: "Destroy, Denigrate, Defame, Dilute, Dismiss, Divide, Donaldize."
-- excerpted from a letter to editor in Sacramento Bee, July 29, 2017